Thank you for reaching out to Emerald City Trapeze Arts regarding your upcoming event.
You won't find another rental venue in Seattle quite like ours! Located in the historic SODO district of Seattle, Emerald City Trapeze Arts boasts nearly 20,000 square feet of functional, flexible and visually stunning gathering space. With a rustic charm all its own, the beautiful post and beam interior transforms from its day-to-day school format into a dazzling corporate event setting.
Included with the venue rental is the following:
Complimentary tour of venue prior to booking
Professional sound system and wireless microphones
Consultation on guest flow, decor, vendor timing, and styling of the venue
Ability to host food trucks and all other licensed caterers
Free parking available to select guests
Professional ambient lighting
Two professional audio/video technicians and ability to do projection
600-square-foot stage with professional lighting available for use
As one of Seattle's most unique venues, this is your chance to impress your guests with our state-of-the-art indoor trapeze rig and word-class performers. Whether you would like to have your guests learn Flying Trapeze or simply keep your guests entertained, we have a variety of packages to fit your needs.
Venue Rental Rates:
Venue is rented on a first come, first served basis. Below, you will find an outline of our current venue rental rates. If you would like more information regarding additional options, beverage service, and venue guidelines, please visit the links to the right.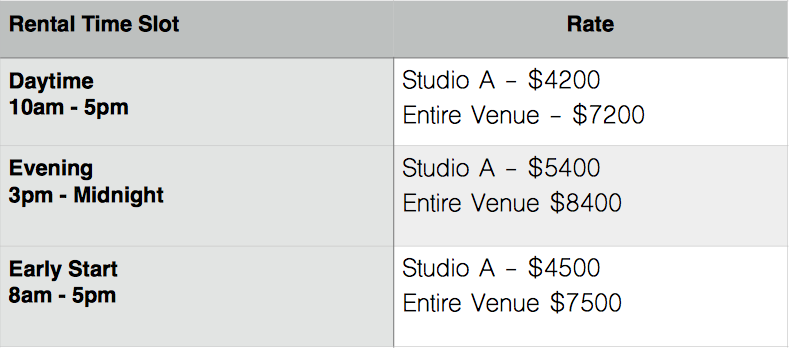 Additional Information: 
Please review the links on the right hand side of this page to gain access to our photo gallery, floor plans, show packages, beverage services, and more!
Thank you again for your consideration of Emerald City Trapeze Arts! Please feel free to contact me directly with any questions or if you'd like to come in for a tour. We look forward to hosting your next event.
Sincerely,
Kari Kirkland
Operations Manager
Emerald City Trapeze Arts